Your Pet Loss
The Final Gift of Love
Laura tells me that she had never seen anyone bring in their pet for euthanasia with the calmness that she witnessed that day. … She noticed my smile and cheerful greeting. She says women come in clutching their dogs or cats in their arms and crying hysterically. I tell her I could never do that to Holly. Animals respond to our energy. I wasn't brave, just determined that she feel no stress. It's the least I could do for her.
Testimonals
"You helped me immensely during Ella's illness and when she died. … You have such a way of getting to the heart of what it feels like to go through the process of saying good-bye."
Holly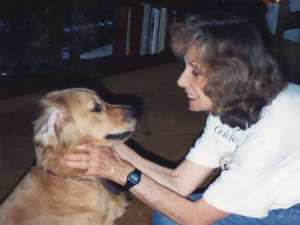 In Memory of
"Holly Go Lightly"
UCLA NPI PAC Therapy Dog
whose purpose in life was to bring joy,
courage, and healing to all those
whose lives she touched with
her golden spirit
1993-2002.